DESIGN
THE DESIGN OF THE BMW 8 SERIES COUPÉ
A fascinating sight: the BMW 8 Series Coupé exudes sportiness with its luxurious appearance and supreme aspiration to perform. Every design element, such as the Active Air Stream kidney grille, the M Carbon roof and the exclusive glass application 'Crafted Clarity' combine comfortable high-tech features with the dynamic elegance of this luxury sports car.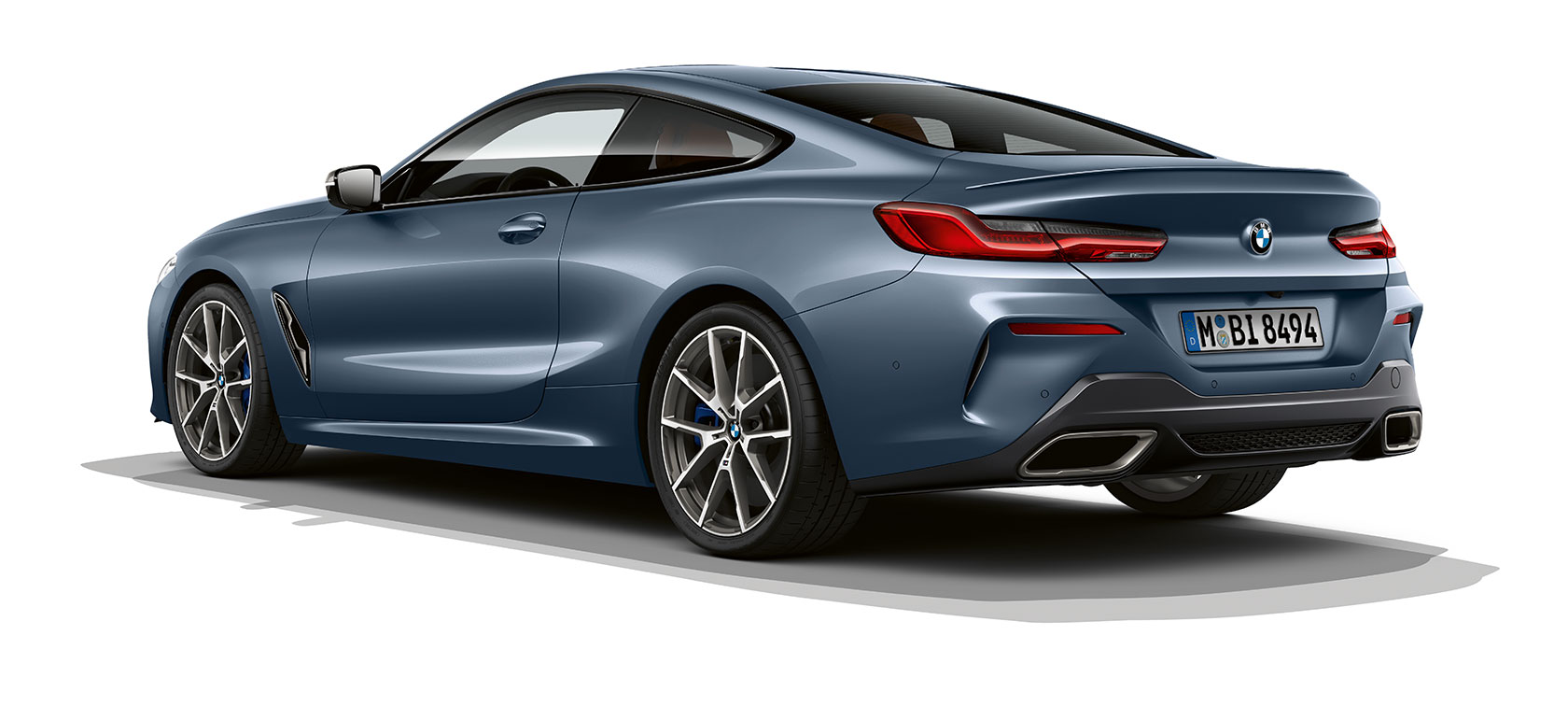 Active Air Stream kidney grille
The Active Air Stream kidney grille opens and closes the air vents in the radiator grille according to the cooling requirements of the engine, the brakes and the air conditioning. At the same time, the system's movable slats reduce air resistance when closed, thereby improving aerodynamics.
M carbon-fibre roof*
As part of the intelligent lightweight construction concept, the M carbon-fibre roof significantly helps to reduce the vehicle's weight. It consists of carbon-fibre reinforced plastic (CFRP) and is 800 g lighter than the standard roof. That way, the centre of gravity of the vehicle is shifted downwards and the driving dynamics are increased. *Optional
Exterior elements
The exterior elements such as mirror caps, logos, tailpipes, air breather panels, kidney grill and kidney slats are held in contrast to the Galvanic Cerium Grey vehicle colour. They fit harmoniously into the dynamic overall appearance and emphasise the sporty appearance of the vehicle.
Multifunction seats for driver and front passenger
The Multifunction seats for driver and front passenger offer comprehensive adjustment possibilities and exceptional seating comfort and safety. This way, the seats can be optimally adapted to personal requirements by an electric backrest width adjustment, a variable lumbar support and a manual seat depth adjustment.
Ambient light
The ambient light produces, through numerous LED lights, a pleasant lighting mood in the interior and a special sense of space in the dark. Colours, brightness and colour scenarios can be adjusted individually. The equipment includes contour and map pocket lighting as well as light guides in the centre console.
'CraftedClarity' glass application
The exclusive 'CraftedClarity' glass application features hand-crafted glass elements on the gear selector, volume control, iDrive controller and start / stop button that enhance the interior visibly and tactually.
BMW Individual extended leather trim 'Merino' Cognac
BMW Individual extended leather trim 'Merino' Cognac, interior colour Black.
DRIVING DYNAMICS
DRIVING DYNAMICS OF THE BMW 8 SERIES COUPÉ
The power and capacity to perform of the BMW 8 Series Coupé is clear for all to see. Thanks to powerful and sporty BMW TwinPower Turbo engines, extremely precise handling and exclusive motor racing features such as the M sport differential, there are no limits to the luxurious sheer driving pleasure that it offers.
BMW TwinPower Turbo 8-cylinder petrol engine
The BMW TwinPower Turbo 8-cylinder petrol engine combines two turbochargers with Valvetronic fully variable valve control and the direct petrol injection High-Precision Injection. It achieves a peak output of 390 kW (530 hp) with a maximum torque of 750 Nm. Both turbochargers are positioned neatly between the cylinder banks.
Steptronic sport transmission
The 8-speed Steptronic Sport transmission offers incredibly sporty gear changes. Whether automatic or manual using gearshift paddles or gear lever – for comfortable coasting or incredibly dynamic driving. In SPORT mode and with the gear lever in the left-hand S/M position, the gear shifts are configured for the best performance.
BMW xDrive
The intelligent BMW xDrive all-wheel drive system smoothly and variably distributes drive power to the front and rear wheels for maximum traction, driving dynamics and safety in every driving situation. The innovative networking with all lateral dynamics control functions of the vehicle allows an arrangement from traction-oriented to maximal sporty driving dynamics.
Integral Active Steering
Integral Active Steering combines support that varies based on the steering angle on the front axle, and rear wheels that also contribute to steering. At lower speeds, it offers greater manoeuvrability and agility by turning the rear wheels opposite the front wheels. At higher speeds, the rear wheels turn parallel to the front wheels, to increase stability and comfort.
M Sport brake
The M Sport brake has four-piston fixed callipers at the front and single-piston floating callipers at the rear in blue with the M designation and features large brake discs to ensure an outstanding braking performance.
M sport differential
The M sport differential optimises traction and driving stability when changing lanes or accelerating out of a bend, when taking bends at high speeds or on different road surfaces. Traction is optimised with the help of an electronically operated device that reduces the difference in revolution speed between the rear wheels.
INNOVATIONS
INNOVATIONS OF THE BMW 8 SERIES COUPÉ
Even faster, even more intuitive: the innovative driver assistance systems and connectivity features of the BMW 8 Series Coupé pave the way for a new era of sheer driving pleasure. And already today, with their ease of operation and pioneering communication systems, they ensure that you enjoy your ride even more.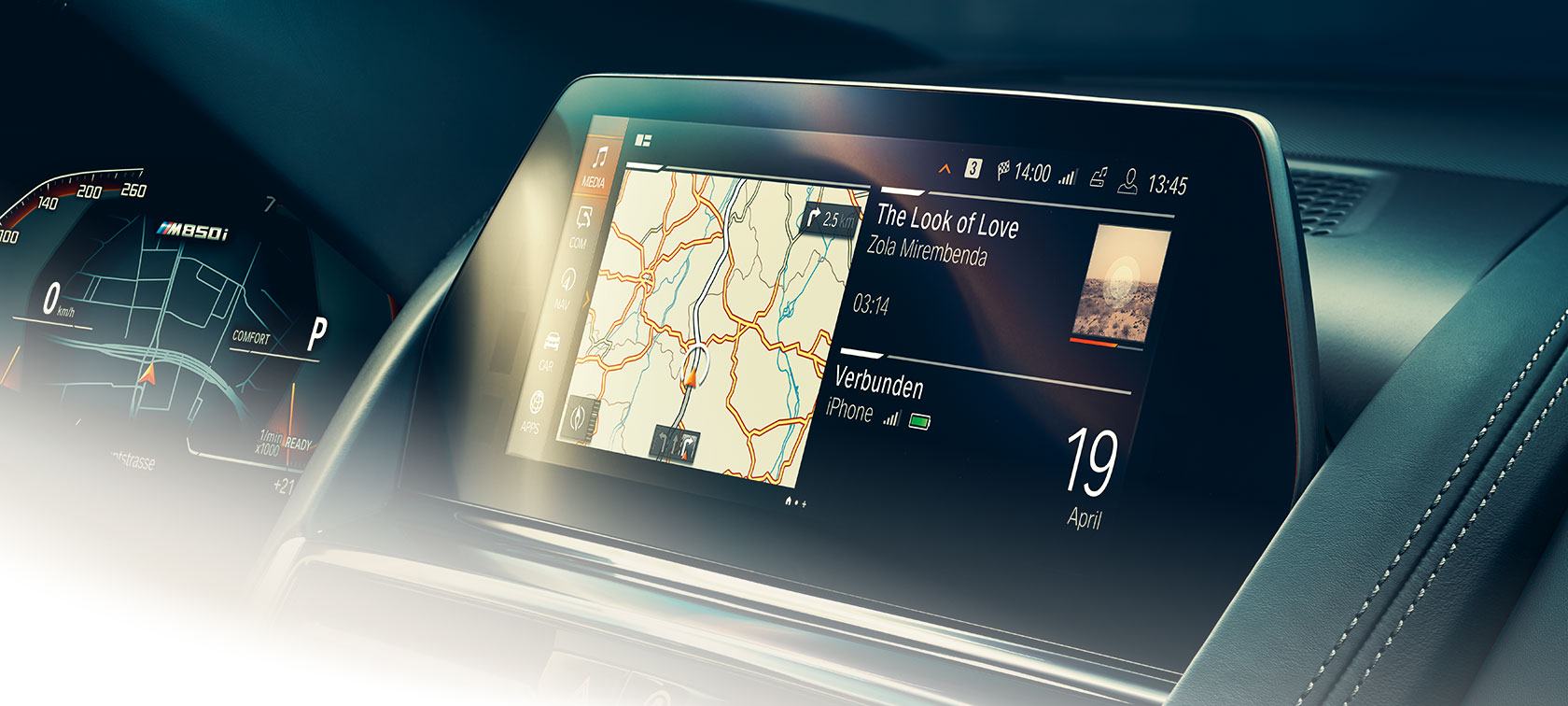 BMW Live Cockpit Professional
The BMW Live Cockpit Professional with navigation function includes a high-quality display network consisting of a high-resolution 10.25" Control Display that can be operated by touch and a fully digital 12.3" instrument display.
BMW Operating System 7.0
The innovative operating concept of the BMW Operating System 7.0 enables even easier operation of vehicle functions via gestures, speech, touch screen and iDrive control – quite intuitively. For this purpose, the functionality of the Controller has been upgraded. For example, all digital services such as apps can now be selected directly.
Driving Assistant and Active Cruise Control with Stop&Go function
Driving Assistant Professional offers optimum comfort and maximum safety during lots of critical or monotonous driving situations with Lane Departure Warning, Lane Change Warning and Front Collision Warning with braking intervention, Cruise Control with approach control, automatic queue speed and distance keeping in stop-and-go traffic and other safety functions.
BMW Intelligent Personal Assistant
'Hey, BMW. Who are you?' Wouldn't it be incredible if your BMW also came with a personal assistant? Communicate with your vehicle using the BMW Intelligent Personal Assistant. It knows you, gets better every day and helps out whatever the situation. You can assign your own personal activation word. It can explain everything about your car and helps you to get to know your BMW even better.
REGISTER NOW FOR EXCLUSIVE OFFERS.
Register now to stay tuned to our latest offer exclusive for THE 8.
Fuel consumption and CO2 emissions
BMW M850i xDrive:
綜合耗油量(單位:l/100 km):10.7
綜合二氧化碳排放量(單位:g/km):245
所示的耗油量、二氧化碳排放量和能源消耗量的數值是根據在定型檢查時適用版本的歐洲法規 (EC) 715/2007 。以上數值為一輛德國基本配置汽車之參數,所示範圍因應選配設備以及所選車型的輪圈或輪胎大小而有所不同。
二氧化碳效率規範是根據 1999/94/EC 指令及現行適用的歐洲法規定的。所示的值以符合 NEDC 分類週期的耗油量、二氧化碳值以及能源消耗為依據。
有關新型乘用車輛的官方耗油量和具體二氧化碳排放量的詳細資訊,可參考「新型乘用車輛的耗油量、二氧化碳排放量以及能源消耗指南」,此手冊可在各個銷售點免費獲取,也可以從https://www.dat.de/angebote/verlagsprodukte/leitfaden-kraftstoffverbrauch.html 查閱。

閱讀更多